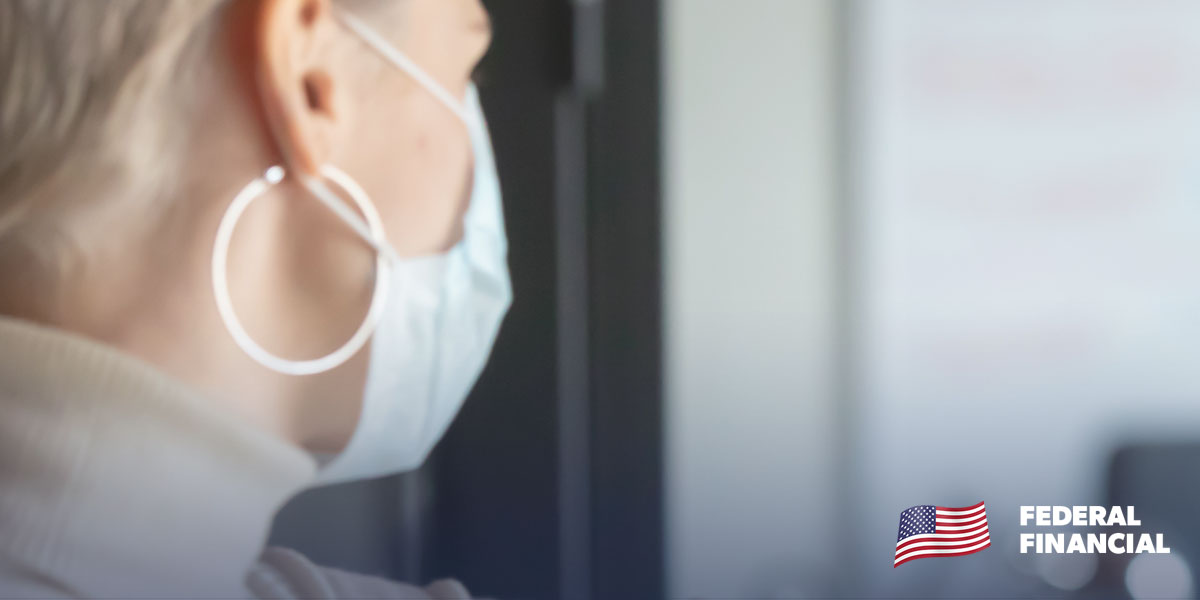 As the coronavirus spreads across the United States, US residents, businesses, and organizations are taking extra precautions to remain safe and healthy.
The public is also closely monitoring announcements from health authorities in the federal government. Masks coronavirus responders and victims where to prevent transmission of the disease are running in short supply. Amazon and eBay have seen massive price gouging, and have sold out of coronavirus masks completely, as have big box retailers.
As people line up to buy coronavirus face masks, health authorities have continued to warn the public about the dangers of the novel virus, and the disease it causes, COVID-19 (coronavirus disease '19). The World Health Organization declared the spread of coronavirus a world wide health emergency on Jan 31, 2020.
It upgraded the viral outbreak to a global pandemic on Mar 11, 2020. During that timespan, the outbreak spread across the global and created several epicenters with high rates of infection, including Italy, Iran, and South Korea.
Coronavirus Pandemic Is A "Black Swan" Event
The coronavirus is so contagious and deadly, that Bill Gates, who has devoted his life as an early tech billionaire to fighting infectious diseases, has said it "once-in-a-century pathogen we've been worried about."
And Gates has been watching, waiting, and preparing for the "big one" for decades now. On Friday the 13th, March 2020, the US federal government declared a national emergency over coronavirus as it began to spread throughout the states.
Originating in the Chinese city of Wuhan, the novel coronavirus is an infection of the lungs like the common cold or seasonal flu, but with a much higher fatality rate. And because the disease is new, we're still not sure just how bad the fatality rate might be, or how quickly the virus could spread.
Coronavirus has also already mutated once since becoming a global pandemic, Chinese government scientists have found. And one of the strains is deadlier than the other.
There's been some backlash against the cautioning of authorities, and the general fear and worry the public has had, leading people to stock up on hand sanitizer and face masks. Government masks in various agencies' stockpiles have been slowly distributed to hospitals and areas where the disease is most out of control, where containment efforts are most desperate.
Among the arguments offered by skeptics that coronavirus really poses a threat as grave as authorities, the media, and the public think it does, is that the seasonal flu infects and kills far more people each year than coronavirus has so far. But they're not taking into account the higher fatality, or more importantly the novel aspect of coronavirus.
Even the leading health authorities are frantically working around the clock to get ahead of coronavirus, sequence its genome, and understand it. While seasonal flu is deadly, we also know what to expect from it every year. Coronavirus on the other hand, is an unknown factor. It's what general systems theorists refer to as a "black swan" event, something that could not have been predicted, but which has an extraordinary impact.
Coronavirus could very well have even higher mortality rates than the current official rate determined by dividing the number of confirmed deaths worldwide by the number of confirmed cases. This is a fast moving disease, and official counts are doubtlessly behind the actual number of coronavirus cases and coronavirus deaths as well.
By mid-March 2020, nearly 150,000 official cases of coronavirus had been logged by governments worldwide. And there over 5,000 coronavirus deaths. There's no wondering why coronavirus masks are in demand.
Shortage of Coronavirus Tests
There has been a wide ranging public outcry in the United States against a lack of coronavirus tests. Many patients and doctors who have been exposed to a coronavirus carrier, or who suspect that they may have COVID-19, have been shocked to find that they cannot get a hospital to test them.
Many have had tests ordered by a physician, only to discover they had to await permission from the Centers for Disease Control to get the test, and in many cases they were denied.
In one prominent case, a nurse working in California requested a coronavirus test after discovering she had cared for a patient who had contracted coronavirus. She was refused a test, because the CDC said if she was wearing a face mask and gloves, she should not have contracted the virus.
So she went public with an outcry against the shortage of tests. California Nurses Association, of which she is a member, read a statement from her at a press conference, rebuking the US government and CDC for its testing procedures:
"As a nurse I am very concerned that not enough is being done to stop the spread of the coronavirus. I know because I am currently sick in quarantine after caring for a patient who tested positive. I am awaiting permission from the federal government to allow for my testing even after my physician and county health professional ordered the test. The national CDC would not initiate the test. They said they would not test me, because if I were wearing the recommended protective equipment, then I would not have the coronavirus."
So far only 13,953 coronavirus tests have been conducted nationwide. That seems like an unnervingly small number of tests giving how fast the disease is spreading. Of course, testing is crucial for determining who is a carrier of the virus so they can receive potentially life saving treatment. And also so they can be quarantined away from the rest of the population until they are no longer shedding the virus or contagious.
One reason for the holdup in testing, is the initial test rolled out by the CDC in February was found to be faulty. There are all kinds of laboratory difficulties that non-medical laity do not understand. So in the meantime, with very few tests and anyone potentially carrying the virus as we wait on better tests from the government, masks coronavirus preppers are seeking have run in short supply as well.
Coronavirus Face Mask Panic Buying and Hoarding
Coronavirus face mask panic buying and hoarding became a worldwide problem in February, contributing to shortages of coronavirus masks at a critical time as the disease erupted into a worldwide pandemic. Target and CVS Pharmacies ran out of face mask stock in their locations all across the United States in February.
Amazon and eBay also sold out of the face masks as well as hand sanitizer and other precautionary equipment to shield against coronavirus.
Several sellers were also charging exorbitant rates for coronavirus masks and hand sanitizers on Amazon and eBay. Both companies issued stern warnings to their sellers banning these practices and notifying them their accounts would be suspended if they were found selling above market prices for face masks or sanitizer.
Of course this likely contributed to worsening the face mask shortage by encouraging hoarders to buy more masks than they really need at artificially low prices that don't factor in the dire supply and demand situation in this emergency.
In February the South China Morning Post published stunning footage from an aerial drone of South Koreans lined up across several city blocks, waiting in line to buy face masks to keep themselves and loved ones safe from coronavirus.
As the rest of the world watched in trepidation and waited for the coronavirus to inevitably spread to their shores, world governments such as Norway's warned that they would not have enough protective equipment like face masks to effectively contain the epidemic within their countries.
They even alleged there were stockpiles of government masks coronavirus responders would need to fight the disease being held by other world governments for their own containment efforts, leading to inevitable shortages across the planet.
Many of these masks are manufactured in China, where the disease originated and has exacted the worst toll. Western governments feared they would not have enough masks to fight the disease, especially as supply lines were disrupted by COVID-19.
Medical mask manufacturers have been working overtime in China to produce the masks. They've been entirely unable to keep up with demand.
Government authorities have begged, pleaded with, and scolded the public for panic buying and hoarding face masks. The Surgeon General of the United States tweeted in exasperation on February 29, 2020, in all capital letters, "STOP BUYING MASKS." He added:
"They are NOT effective in preventing general public from catching #Coronavirus, but if healthcare providers can't get them to care for sick patients, it puts them and our communities at risk!"
CNN reported:
"The tweet comes during what has become a mask boom. With coronavirus popping up in the United States, some have begun buying face masks as a form of protection, despite the likes of the US Centers for Disease Control and Prevention and Vice President Mike Pence saying they're unnecessary."
Health authorities also say that healthy people who wear the face masks are more likely to contract the virus themselves, not less likely to. The Norwegian Institute of Public Health warned:
"Persons who are wearing face masks tend to touch their faces more often, which can increase the risk of contagion."
While that may seem counterintuitive, their explanation does make sense, even to a non-medical expert. Touching the face is one of the most common ways to introduce coronavirus from the hands to the mouth and nose, where it can move into the respiratory tract and cause COVID-19.
Experts recommend healthy people protect themselves from coronavirus by avoiding unnecessary exposure to public places until the epidemic has been contained.
Additionally, hand washing and social distancing (maintaining a space of six feet between yourself and anyone else in a public place, or even at home if another household member has been exposed to coronavirus) are considered more effective at reducing rates of coronavirus transmission than wearing face masks.
Although if you already have coronavirus, wearing the mask can help prevent transmission to others as you shed the virus by normal breathing.
Are There Free Government Masks Coronavirus Victims Can Get?
If you're on some form of federal assistance, such as food stamps or Medicaid, you may be wondering as the epidemic unfolds across the United States, whether there are free government masks coronavirus victims, or people who are afraid they might contract coronavirus from a state or federal agency. There have been a number of proposals at the highest levels of government in an ongoing effort to make federal assistance available to fight the epidemic.
At this time however, there are no government masks coronavirus preppers can get for free. Because they are ineffective at preventing the spread of the virus, and may even contribute to increased rates of transmission for healthy people that wear them, there is currently no program to distribute the masks for free.
Additionally the shortages faced by critical responders in hospitals and the medical industry requires careful rationing of public stocks of the mask so that those who are directly exposed to the virus on a daily basis have protection from it.
That's especially important because physicians and nurses treating coronavirus patients are far more likely to die from the infection if they contract the virus. At least it appears that way from China's recent experience at the epicenter of the pandemic.
An alarming number of doctors and nurses treating coronavirus victims have died, including the director of Wuhan Medical Center, and the doctor who first warned of coronavirus on a chat with other physicians.
The theory is the stress and exhaustion from fighting the epidemic has left them with weakened immune systems.
If you think you need a coronavirus mask, you will have to scour the Internet to find a supply that hasn't been depleted by the massive panic buying and hoarding.
But you will be better off minimizing any unnecessary interaction with others, practicing excellent personal hygiene, sleeping on your side at night so any viruses on your face or nose or throat do not aspirate to your lungs, and practicing social distancing for those times you must be in public for work or to run any necessary errands.
Note: all facts and figures were accurate as of the time of writing.